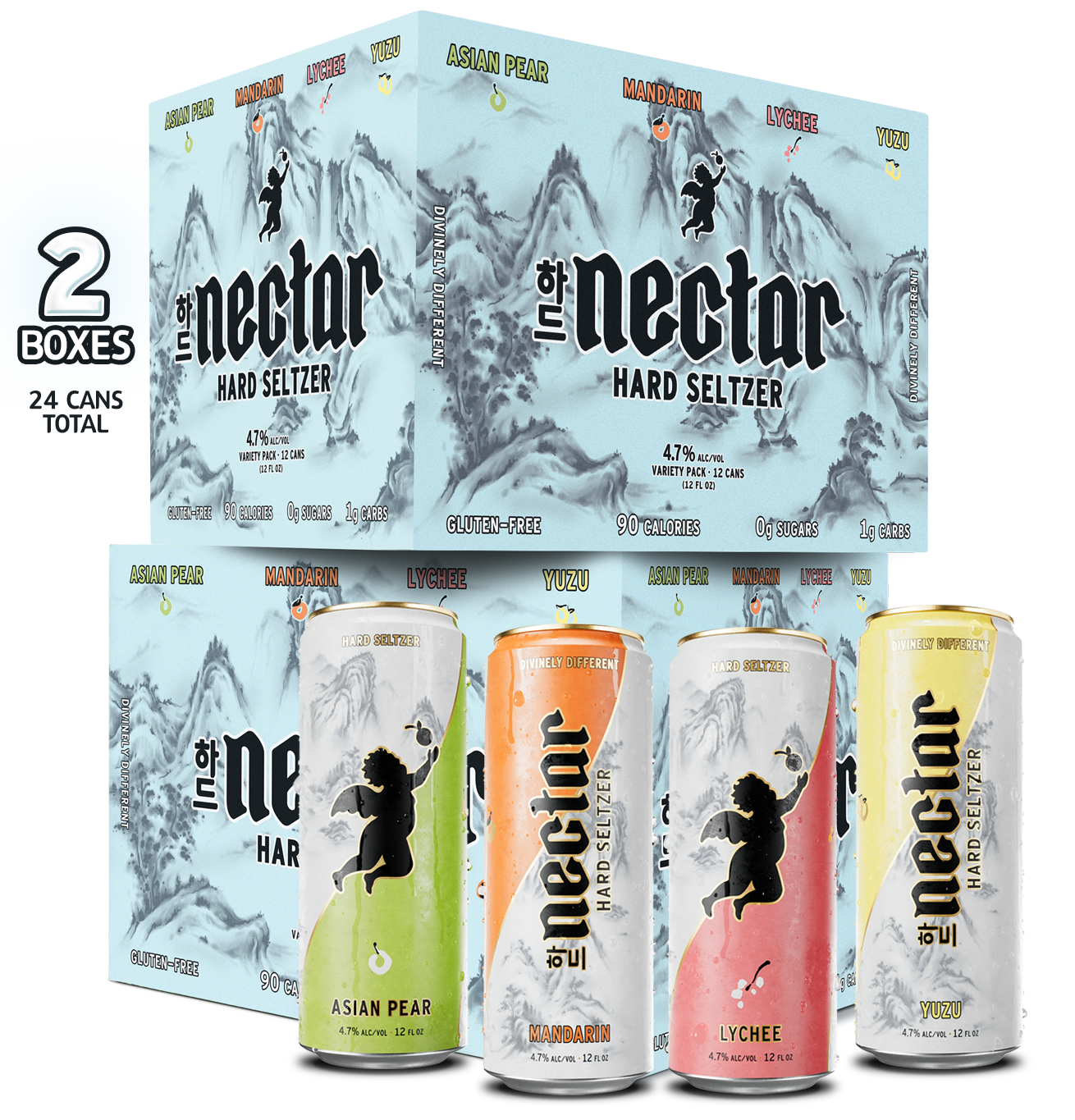 Are you tired of the same repetitive flavors sold everywhere? Have big brand seltzers ruined your tastebuds with their weird artificial aftertaste? We created 하드Nectar to help hard seltzer drinkers like you experience superior Asian fruit flavors that taste smooth from start to finish!
ORDER
$57.95 $49.25
$24.63 per box - $2.05 per can
ORDER
$115.90 $98.50
$24.63 per box - $2.05 per can
---
WE SHIP TO 45 STATES.
AVAILABLE IN-STORE IN 6 STATES.

CA. TX. WA. HI. NY. NJ.
---
FREQUENTLY ASKED QUESTIONS
Let us explain in this video
Of course - we are stocked in over 1600 stores in 5 states (CA,WA,HI,NY,NJ). Just use our Find Nectar tool to find a store near you.
We ship to every state except for Alabama, Arkansas, Hawaii, Mississippi and Utah.
After your order has been placed, you will receive an confirmation email with a link to track your order. We generally see orders delivered in 7 days. Check your tracking link for updates.
If you have not received this confirmation email, or are having issues retrieving the information, please contact us at taprm@divinelydifferent.com, and we will provide further assistance.
---
THE NECTAR ORIGIN STORY
In November of 2020, we took the first Asian-inspired hard seltzer to over 200+ stores in Los Angeles...
but every store told us NO.
We were baffled because we knew we had the
NECTAR OF THE GODS - no weird aftertastes like other big brand seltzers and a set of Asian fruit flavors that were impossible to find anywhere else.
So we turned to the internet...
We posted our first video on TikTok with our phone number in it, just to see if anyone out there actually wanted our drink.
The video started going viral!
We got 300,000 views in 3 days and hundreds of people started texting us, asking where they could try Nectar.
We used these phone numbers to convince 2 stores to do a secret drop in Los Angeles.
And we SOLD IT OUT in under an hour.
So we tried it again in more spots like Orange County, San Diego, The Bay, New York, Seattle and Honolulu.
We quickly realized we weren't alone. What started off as 5 friends tired of getting their taste buds destroyed, has now turned into a movement that is spreading across the country. This community is the sole reason Nectar is here today!
If you're ready for something Divinely Different order for 15% off below!